Vendor Maintenance
New vendors can be easily entered into the IRIDIUM Retail Management Software tool. Unique vendor and remit to information is located in one common screen.
Multiple contacts may be added for each new vendor, specifying their role as one of the following: sales, payables, shipping/receiving, finance, or miscellaneous. Specialized payment terms can also be entered in this area to reflect any discounts that may be applied. At any point, vendor information may be edited or deleted from the tool.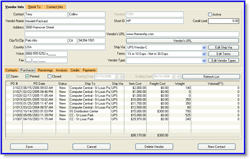 Vendor Maintenance
Vendor Tracking
The tool automatically stores and tracks the vendor identification numbers and text descriptions associated with each inventory item that was purchased from the vendor. The last cost associated with the purchase is recorded as well. As a means of calculating vendor delivery performance, the system can store both inventory promised dates and inventory receive dates.

Vendor List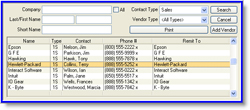 Vendor Inquiry