New Sale Orders
Using the IRIDIUM Retail Management Software tool, new sales orders are easily created for both new and existing customers. Using sophisticated search algorithms, the tool populates new sales orders with all existing customer information. This information can be easily updated, and the changes are reflected throughout the rest of the system. Universal billing and shipping information may also be updated based on new and existing sales order data.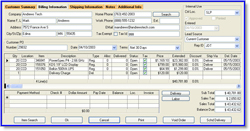 New Sales Orders
Approval
When a sales order is approved, the order fulfillment process is automatically set into action. Items scheduled for pickup or delivery are added to the Pickup/Layaway System or the Delivery Planning System, respectively, and are not relieved from the Inventory Management System until they are completed. Take-along updates the Inventory Management System immediately.
Voided sales orders are stored within the system and may be tracked and reviewed accordingly. The ability to generate and print invoices on approved sales orders is also possible.
Sales Order Inquiries and Status Reports
Sales order inquires may be conducted for a specific location, or across all locations. Status reports may also be generated for sales processes and order-booking analysis. Search criteria for both inquiries and status reports include: specific sales order numbers, closed or voided status, approved or unapproved status, and start or end date.
Sales Order Item Status
The status of sales order items may be verified for a specific location, or across all locations. As a means of personalized customer service, item status may be verified by all, or by individual, sales representatives . Search criteria for the item status include, all items, non-allocated items, currently unavailable items, and items needing to be purchased.